Common British Birds
Third Page - Great Black-backed Gull to Lapwing
Photos of British birds most of which are still fairly common but that you are unlikely to see in your garden.
Click the thumbnail to see the larger image - all the pictures expand to 1500 x 1000 pixels. On this page: Great Black-backed Gull, Great-crested Grebe, Greylag Goose, Guillemot, Heron, Herring Gull, Hobby, Kentish Plover, Kingfisher, Kittiwake and Lapwing. The video links open in a separate window.
All images are our copyright but conditional re-use is allowed. See the about-us page for more details.






Great-crested Grebe - Great-crested Grebe video of a couple pair bonding


Guillemot Guillemot video





Grey Heron - Grey Heron video


Kittiwake Kittiwake video
---
Garden Birds pages
Other Common Birds
Rare and European
Site Pages
---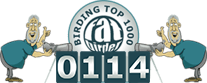 ---

This site's Facebook page